To be honest, we aren't huge fans of packaging here at Sun & Swell Foods. In fact, if we had it our way, there would be no packaging at all. Unfortunately, we live in a world where packaging is a necessity and we believe that in order to effectively slow the rate of climate change, we need to help slow the rate at which consumers are using single use plastics. We believe compostable packaging is the solution.
Today, we're proud that over 75% of our products are sold in 100% compostable packaging, up from 10% in 2019 (and 0% in 2018!). To our knowledge, we package more of our product line in compostable packaging than any other food brand in the nation. In 2019, we were recognized for our leadership by the food industry with a major industry award.
Our goal is to ultimately transition all of our products over to compostable packaging, but in the meantime, here's a guide that explains which of our products are compostable, and how to compost them.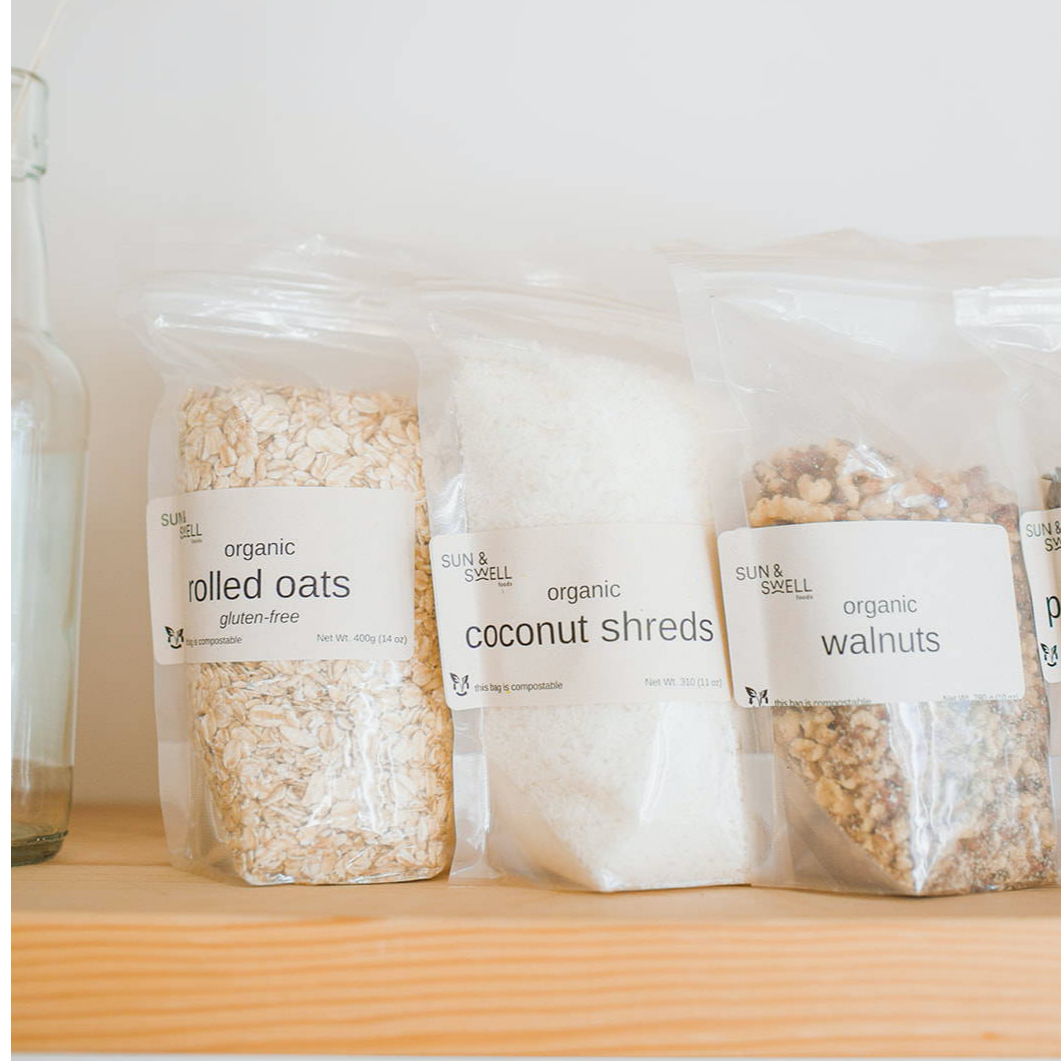 Our entire Pantry Staples collection is sold in 100% compostable bags. Our Pantry Staples collection includes any single ingredient product (e.g., dried fruits, nuts, spices), which are sold in either clear bags (like those pictured here), or Kraft bags.  
- Industrial Compost: Will decompose in 90 days in an industrial compost setting. To find an industrial compost facility, go to www.findacomposter.com. Make sure to call the composting facility in advance to see if they accept packaging like ours, as some compost facilities only accept food scraps / select other materials.
- Home Compost: Our packaging is approved for home composting, however, we cannot guarantee a timeline as everyone's home compost has varying degrees of humidity, heat, and presence of bacteria/microorganisms. We are currently in the process of testing a variety of home composting scenarios with our bags, so we can give more information on do's / don'ts. Follow along our home composting journey here.
- Sun & Swell Send-Back Program: Don't have access to composting? We are piloting a send-back program so we can compost them for you! Learn more

here.
Questions about our compostable bags? Check out our FAQs.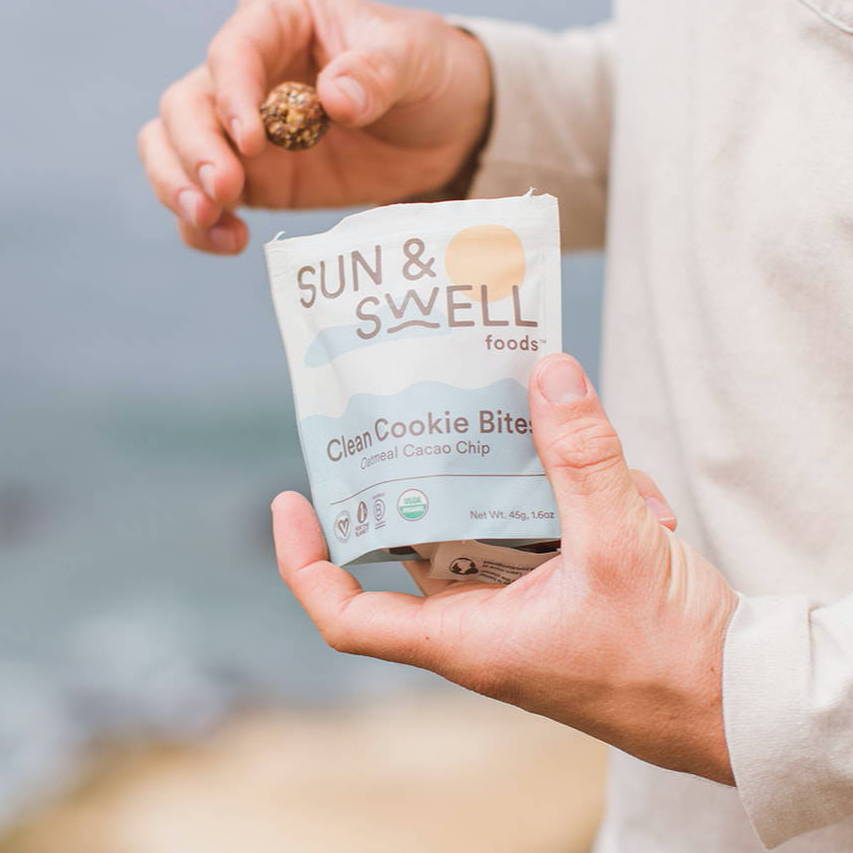 In 2019, we started to transition all bites and cookies to compostable packaging. However, we had some challenges with the packaging we used, and are currently in the process of testing new compostable solutions for this collection. In the meantime, we are transitioning all bites and cookies to Recyclable #2 packaging.
If you have a Recyclable #2 bag, it will have an Earth icon on the back (see below). Recyclable #2 is one of the most widely accepted plastics for recycling, however, #2 plastic bags and film packaging (such as our snack packaging!) are currently not curbside recyclable. Luckily, many retail stores, municipal recycling centers and private recyclers in the United States DO accept plastic bags and film packaging. Find your nearest drop off location here.