The kitchen is often called the heart of the home, and for good reason. Most of us spend quite a bit of time in our kitchens, prepping and enjoying our daily nourishment and then, yes, cleaning up after that nourishment. However, the kitchen can also be a sneaky source of an alarming amount of waste in a household. These five simple swaps can help greenify the heart of your home!
Reusable Produce Bags: ditch single use plastic bags and replace them with reusable produce bags. We recommend

these from MeMotherEarth

, that handmade from 100% cotton, durable, and washable.
Kitchen Composter Kit: transform food waste into nutrient rich compost with the help of

 

a compact indoor composting system

. Try out your green thumb on an herb garden, compost courtesy of your food scraps!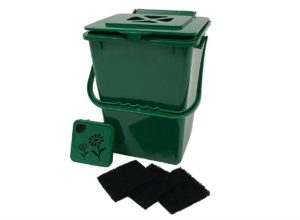 Refillable Cleaning Products: these "forever bottles" and soap tablets from Blueland mean you don't have to rely on single use plastic bottles for cleaning products anymore! Bonus: all their formulas are non-toxic. 
Sponge Cloths: forget the annoyance of running out of paper towels just when you need them most. A single sponge cloth by Ever Green Cloth replaces the use of 17 rolls of paper towels and is made from recycled materials! 
Sustainably Packaged Dry Goods: unfortunately, our favorite pantry items often come in non-recyclable plastic bags and boxes. Stock your shelves responsibly with food packaged in more sustainable packaging. We obviously prefer our Sun & Swell pantry items, where every product is not just organic and delicious, but also packaged in compostable bags or reusable glass containers.
Give these swaps a go - the Earth (and your wallet) just might thank you! We love to see the ways you're working to make your kitchen more green so be sure to give us a tag if you post your efforts on social. No step is too small! #SunAndSwellPantry